Small and surplus piglets are not redundant
In recent years, due to genetic progress, litter sizes in sow farming have increased considerably. However, more piglets per sow often results in more light piglets as well. These piglets are less vital and have an increased risk of mortality in the farrowing pen. Also, sows often give birth to more piglets than the number of functional teats they have, preventing small piglets from feeding. These piglets are called surplus piglets. Small and surplus piglets do require extra attention from the farmer but, with the right care, these piglets can also be raised to perform well.
With larger litters during gestation, fewer nutrients and less oxygen are available to piglets in the uterus; resulting in a lower average birth weight, more variation in birthweights, and lower piglet vitality. The lower the birth weight of a piglet, the higher the chance of it dying before weaning. There are two primary reasons for this occurrence. First is because small piglets have fewer energy reserves, making them more susceptible to a lower ambient temperature. Piglets that are warm and dry will quickly take up colostrum, so make sure that the temperature in the farrowing pens is always sufficiently high. Second, small piglets tend to take colostrum later and in lower quantities. Colostrum is essential for antibodies, energy, and intestinal development. Therefore, piglets with a low colostrum intake are typically less vital and have a higher risk of being crushed by the sow. In addition, after the colostrum phase, large litters mean less milk is available per piglet.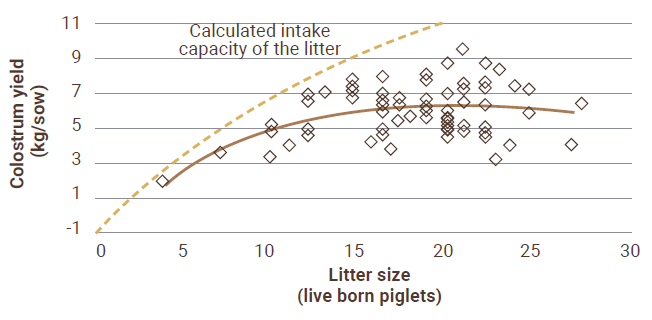 So, high litter numbers, a cold environment, and reduced colostrum (and later milk) intake often results in increased mortality in the farrowing pen and lower weaning weights of the affected piglets. Moreover, animals with a lower weaning weight continue to grow slower in the rearing and fattening stages. As reducing litter size isn't a viable option, measures are needed to wean healthy and vital piglets from large litter. There are several techniques practiced on the farm and a few ways to take care of light and surplus piglets are listed below.
1.Cross-fostering piglets:
One of the most widely used systems for surplus piglets is moving piglets to different litters. This occurs at nearly all farms to some degree. Prior to moving, ensure the piglets are able to take colostrum from the dam first. To achieve this, sorting for cross-fostering shouldn't occur before 24 hours after birth. Additionally, the piglets' teat order is fixed between 24 and 48 hours of life, so cross-fostering should take place before 48 hours of life. Usually, the largest piglets from a healthy litter are moved to reduce stress on small and at-risk piglets. When cross-fostering, care should be taken to not increase the spread of germs like streptococci or E. Coli in the farrowing pens.
With alternate suckling, the smallest piglets are left with the sow continuously and the largest piglets are separated periodically. This allows the lightest piglets to take up sufficient milk. Though it is very labor-intensive, alternate suckling during the colostrum period is a valuable practice for large litters. To allow later-born piglets an opportunity to receive sufficient colostrum, the first-born piglets are marked and after some time are separated from the sow. Make sure that the separated piglets are not put in a cold environment (e.g. in the feed alley) but behind a partition in the piglet nest area and under a heat lamp.
A more recent concept is allowing piglets from two or more sows to move between lactating sows. A specific design is the 3-2 system, where 3 litters of piglets are placed with 2 sows and the piglets can move between the sows. If done well—and by supplementing the piglets with extra milk—it is possible to wean 40 piglets with two sows.
As multipartition (2–3) sows typically have the best quality of milk, they are often selected for fostering. It is important for the foster sow to have good mothering qualities, an excellent udder, and a calm character. A calm character reduces the number of piglets being overlaid by the dam. Do not give a foster sow more piglets than her previous litter because nipples that were not used before will have dried up. As with cross-feeding piglets, it is important to allow the piglets to take colostrum from the birth sow and then to place them with the foster sow no earlier than after 24 hours after birth.
5. Liquid supplementary feed:
Providing piglets with milk or yogurt while they are with the sow results in more uniform piglets and higher weaning weights. A milk replacer allows piglets to stay with the birth sow and limits the use of foster sows (reducing the risk of spreading pathogens) and motherless rearing (see below). To promote intake, ensure the milk is sufficiently warm, provided fresh several times a day, and stays homogeneous for a long time.
Recently, multiple automated systems to feed milk (cup-sys¬tems) or liquid prestarters (e.g. Nutrix+ of WEDA or CulinaFlex from Big Dutchman) are available. These systems ensure a continuous supply of fresh and warm milk or prestarter to support extra piglets under the sow.
6. Early weaning (motherless rearing):
Early weaning can be done from 3 to 14 days-old and, depending on their age, the piglets are reared using rescue decks, ar¬tificial sows, a pre-weaning battery, or a regular battery. Since suckling the sow is the best for the health and the growth of the piglets, weaning at 3 days should only be done if there are no other options. When early weaning, it is recommended to wean the largest piglets. Keep in mind that in the European Union (and select other systems) it is not permitted to wean piglets younger than 3 weeks.
In closing, caring for light piglets is important, however, it is simpler (and more cost-effective) to avoid light piglets in the first place. Proper nutrition for the sow during gestation, farrowing, and lactation can help produce healthy and robust piglets that receive sufficient milk. It is also essential to ensure the sow has a suitable environment in the farrowing pen.
Even with the best sow management, large litters and small piglets are common with modern genetics. To assist in rearing large litters, Earlyfeed has the Babi® product range. For example, Babi®mel Lac and Babi®mel Grow are milk replacers that stay homogeneous for a long time (making them very user-friendly) and are perfect for use in automatic cup-feeding systems. Just like sows' milk, Babi®mel Lac has a very high energy content, making it the ideal replacer (or addition) to support young piglets. Babi®mel Care is a prestarter range that is specially developed for automated porridge feeding systems, combining excellent intake with optimal technical properties. This allows the farmer to achieve a high feed intake—with a high dry matter content—without creating problems in the system.
Your Earlyfeed expert
Christopher Marcq
This contact was suggested based on the location you are browsing from. You can of course also consult our other contacts and locations here.