BABI®MEL
CREAM
Preparat mlekozastępczy dla prosiąt od 2 dnia życia
Szybka ewolucja genetyki w hodowli świń nadal zwiększa rozmiary miotu. Powoduje to zmniejszenie średniej masy urodzeniowej i odsadzenia oraz niższą jednorodność prosiąt. Babi®mel Cream został stworzony, aby zaspokoić potrzeby żywieniowe nowonarodzonych prosiąt oraz wspierać rozwój ich układu odpornościowego i przewodu pokarmowego. Jego smak, zapach i konsystencja stymulują spożycie przez nowonarodzone prosięta.
Wysoka zawartość najwyższej jakości komponentów mlecznychHigher feed intake

Wysoka zawartość wysoce strawnych białek pochodzenia mlecznegoHigher feed intake

Zastosowane źródła wysoce przyswajalnego tłuszczu

Długotrwale utrzymująca się homogenność gotowego pójła, dzięki konsystencji jogurtu

Wysoka smakowitość, dzięki zastosowaniu substancji smakowych oraz kwas

ów organicznych
Babi®mel Cream wzbogacony jest o naszą innowacyjną koncepcję START+. START+ zawiera aktywne składniki specjalnie zaprojektowane, aby zapewnić prosiętom lepszy. Wspiera ona dojrzewanie słabo rozwiniętego przewodu pokarmowego nowonarodzonych prosiąt, gwarantując im tym samym lepszy start.
Główne zalety

BABI®MEL CREAM
Uzupełnienie mleka lochy, szczególnie dla najsłabszych prosiątSupports general health and immunity

Wyrównane i żywotne prosięta w miotach

Wyższa masa odsadzeniowa prosiąt

Poprawa zdrowotności prosiąt, dzięki stymulacji układu odpornościowego i rozwoju przewodu pokarmowego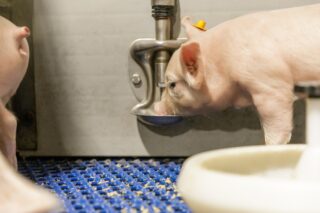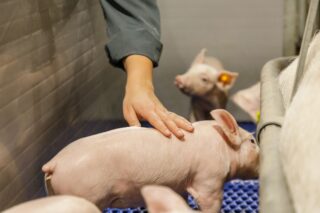 Twój ekspert Earlyfeed
Paweł Sklorz
Doradca techniczny
Ten kontakt został zasugerowany na podstawie lokalizacji, z której przeglądasz. Tutaj możesz oczywiście sprawdzić również inne nasze kontakty i lokalizacje.
Zbilansowane żywienie młodych zwierząt

 
Opracowanie strategii zrównoważonego żywienia na wczesnym etapie cyklu produkcyjnego, jest opłacalne w ujęciu długoterminowym.
Wspólnie dajmy nowo narodzonym zwierzętom wszystko to, czego potrzebują.