Reflecting on the zinc-oxide ban and how to raise healthy piglets now
We have entered a new stage in how the world views agriculture, specifically rearing pigs. Techniques used for generations are found to be just as harmful as helpful and have led to necessary changes in how farmers produce food for the world. With the activation of the medicated zinc oxide ban within the European Union, many have questions on how to continue sustainable and economic farming. Why was this ban necessary, and what steps can be taken to adjust?
Due to the increasing concern regarding the use of antibiotics in pig production, regulations 2019/4 and 2019/6 were designed and implemented in January 2022 to ban the routine use of antibiotics and (preventive) group treatments. With antibiotic resistance (AMR) in pigs, there is a higher risk of antibiotic-resistant bacteria transfer to humans; who rely on antibiotics to treat serious bacterial infections. In fact, in 2019, an estimated 1.27 million people died with a direct tie to AMR and up to 4.95 million due to associated causes. Further still, if changes are not made, AMR is estimated to be the leading cause of death—with a possible 10 million people dying annually—by 2050.
History of medicated zinc
In an attempt to reduce antimicrobial use, for many years, high concentrations of medicated zinc oxide were used in conjunction with, or as a supplement to, antibiotics to help prevent post-weaning diarrhea in piglets. However, there is also a growing understanding of ecotoxicity in relation to high levels of zinc oxide. All of this led to the European Commission's decision to ban the use of therapeutic concentrations of zinc oxide in feed throughout the European Union on 26 June 2022.
World Health Organization's vision for 'One Health'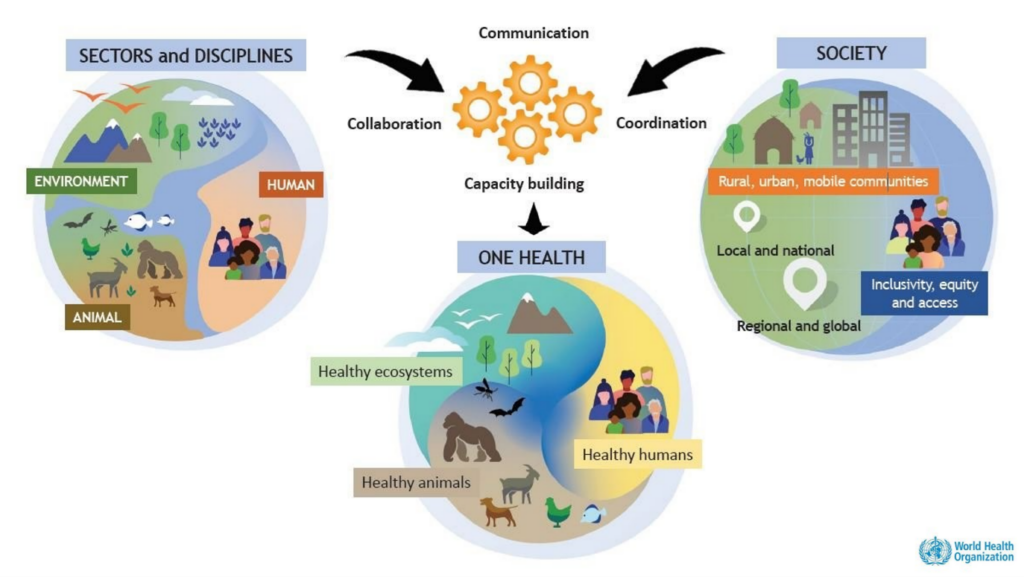 In addition to losing traditional solutions to support the animal during stressful periods (medicated zinc oxide and antibiotics), there are still the old concerns around rearing piglets:
The first concern is the rapidly evolving genetics in pig production, causing bigger litter sizes with similar levels of colostrum produced. Low birth weights and low daily growth lead to reduced growth in later stages, which can result in significant economic losses. The suckling and weaning periods are the most critical for growth retardation and will impact the piglet's growth for its entire life. If piglets have enough colostrum intake, and are supported by creep feed at an early stage, the effect of low colostrum is reduced.
Colostrum is essential not only to immune development but also to gut health. Studies show that high colostrum intake has a stimulating effect on growth before and after weaning. This is why the first objective concerning colostrum should always be to support the sow's production, however teaching the piglets to drink a nutritious milk replacer or eat a palatable and playful creep feed as early as 2 days after birth is also vital for a successful and healthy weaning process.
Colostrum availability in relation to immunity

When colostrum intake is low, gut development is diminished and a loss in efficiency for the rest of the animal's life will occur. The gut must be able to absorb nutrients optimally and prevent disturbances of gut microflora and health. A well-developed gut and microflora are vital for problem-free weaning and reducing growth retardation. This is very clear when we look at the relative ease 26-day-old piglets are weaned compared to piglets weaned earlier.
Overcoming higher hurdles
With these continuing concerns around piglet rearing and weaning, the loss of antibiotics and medicated zinc oxide were originally seen as great hurdles. However, as we worked toward this new reality, solutions were found. Some nations—The Netherlands, Belgium, and France—initiated the zinc-free structure early, meaning Earlyfeed has over 5 years of experience raising healthy and vital animals without medicated zinc oxide. Our Aim for Zero Program is a 3 part approach:
Farm management practices
The first place to look is in the farrowing house, as this stage is important for a profitable and healthy production unit. Effective farrowing house management will deliver more benefits than ever in a zinc oxide- and antibiotic-free production environment. Questions to ask include: What factors can we control? What are the genetics of the production unit? What is the unit's health status? Can drinking water quality and climate conditions be improved? How are the piglets housed after weaning?
It is essential to look at the bigger picture. Healthy rearing is more than suppressing E. coli, it is about supporting healthy gut microflora and maintaining the gut barrier function. Asking these management orientated questions is proven to help, in fact, Postma et al., 2016 emphasized the importance of good farm management, improved biosecurity, optimized vaccination, and smart use of antimicrobials. When done, these management practices resulted in a significant 52% reduction in antibiotics from birth to slaughter.
Providing a well-balanced creep feed before weaning will lead to a smoother feed transition after weaning. After all, when acid production in the piglets' stomachs is stimulated, there is better intestinal development. This ensures better digestion of vegetable proteins and carbohydrates to result in a lower risk of diarrhea, improved performance, and lower mortality.
Nutritional health solutions
To respond to the challenges after weaning, the Aim for Zero Program includes products with innovative nutritional health solutions. This is captured in Vitastart Zero, a concentrate that—in addition to smart management and our feed advice—focuses on a safe start for piglets. To achieve this, we looked at the
Role of inert and fermentable fibers
Acid-binding capacity of the final feed
Use of specific energy sources by the gut microflora and microvilli
Digestibility of the different protein sources
Antibacterial effect of medium-chain fatty acids
Antioxidant support of plant polyphenols
Pathogen-binding effect of functional fibers
Tasty and easily digestible raw materials needed to stimulate continuous feed intake
Prebiotic blend for early gut maturation with the START+ concept
With sound management and the right nutritional solutions, such as Vitastart Zero, you do not have to compromise on technical performance (and the related economic results) in a zinc oxide-free environment.
Earlyfeed is known in the market for its cost-effective solutions and innovative concepts to support gut health, thus reducing the use of antimicrobial agents. At Earlyfeed, we are convinced that the new normal following the ban on medicinal zinc and the reduction in the use of antibiotics calls for an integrated approach. This is why we have the 'Aim For Zero' program, a 3-in-1 concept that contains comprehensive advice with a focus on three pillars: management, nutrition, and the application of innovative functional feed ingredients.
Your Earlyfeed expert
Delphine Van Zele
Product Manager Swine
This contact was suggested based on the location you are browsing from. You can of course also consult our other contacts and locations here.